Roof fan solutions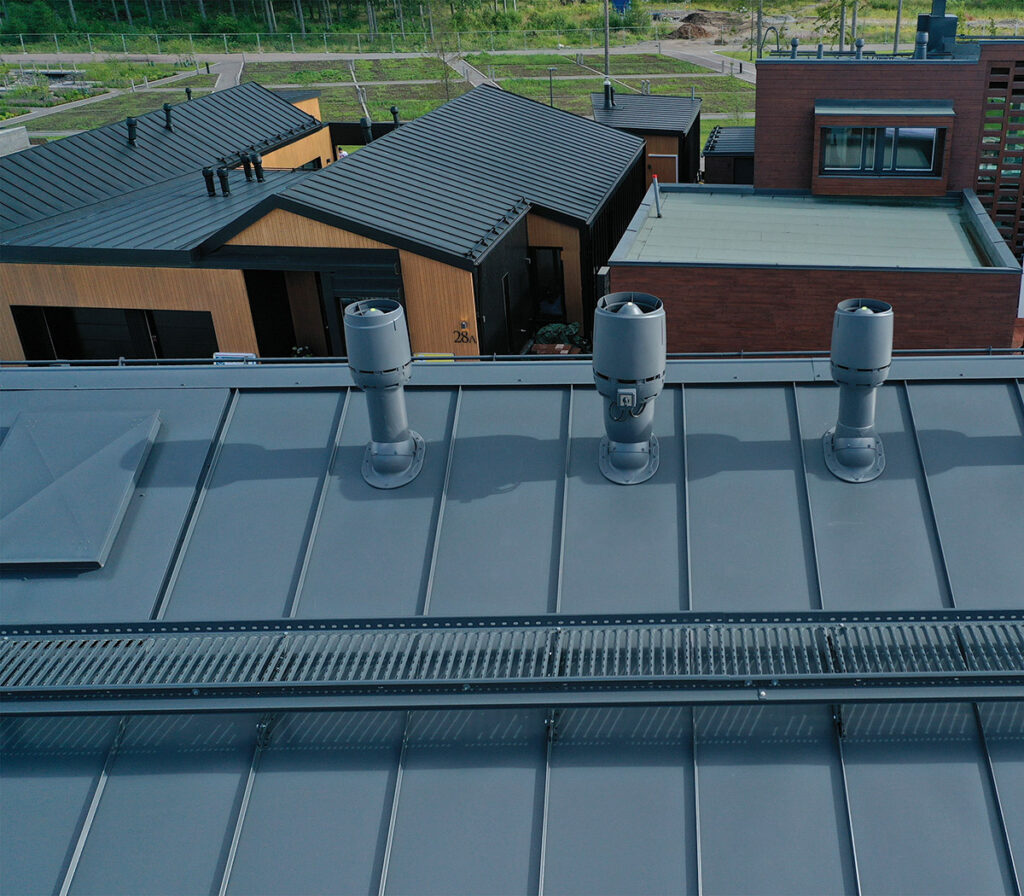 A roof fan is the multifunction product of ventilation. Check out the list of different possibilities our roof fan solutions offer.
Exhaust ventilation
1. Ventilation system renovation of an old detached house
An old passive ventilation system can be renovated into an automatic and demand-controlled system using a roof fan and its automatic control system VILPE ECo Ideal Wireless. Wireless sensors measure the relative humidity (RH) and carbon dioxide (CO2) levels in the air, and send this information wirelessly to the control unit. The effectiveness of the roof fan is then adjusted to ensure good air quality without the unnecessary use of excessive energy.

Secure a sufficient flow of fresh air into the building with VILPE Wive intake vents and make sure fresh air transfers from one room to another.
2. Exhaust air ventilation of corridors and staircases in apartment building
A roof fan can also be used for exhaust air ventilation of corridors and staircases in apartment buildings. For example, an EC roof fan controlled with VILPE ECo potentiometer can be used for this purpose. The potentiometer adjusts the roof fan to ensure proper ventilation. It is also possible to control the roof fan with VILPE ECo Ideal Wireless if there is a need for a system that automatically adjusts according to the humidity and carbon dioxide levels. Secure a sufficient flow of fresh air into a building by installing VILPE Wive intake vents to the ground floor.
The roof fan is also suitable for improving ventilation in common laundry rooms.
3. Exhaust air ventilation of garages and warehouses
Heated garages are not only used to store personal belongings, but it is a space for hobbies and free time activities. A room that is used for storage should always be warm and well-ventilated. Without proper ventilation, the humidity will condense on structures, which creates a situation where mold and other bacteria can start to grow. A common way to ventilate a garage is to install a roof fan. The ventilation of a garage can also be turned into an automatic system with VILPE ECo Ideal Wireless.
Kitchen exhaust air ventilation – a roof fan to replace a cooker hood with build-in motor
The traditional way for kitchen exhaust air ventilation is a cooker hood with a built-in motor. However, the function of a traditional motor working in the cooker hood right over our heads can also be taken over by the motor installed in the roof fan. This system allows for the complete minimization of noise resulting from the work of a traditional cooker hood.
Silent operation is not the only advantage of this solution. Another one is its efficiency. Thanks to the underpressure created all the way through the ventilation duct, the strength of extraction of the contaminated air is better than in traditional hoods. The roof fan is controlled with the cooker hood.
Radon protection
Indoor air must not contain dangerous substances for your health, such as radon. A mechanical way to remove radon is using a VILPE ECo 110 FLOW or VILPE ECo 110 roof fan.
The ECo 110 FLOW roof fan is suitable for radon removal if there is a building-automation system or need to monitor the roof fan's rotation speed. It is also suitable for buildings where a separate controller (such as VILPE ECo Potentiometer or VILPE ECo Controller) is needed to control the roof fan rotation speed.
The VILPE ECo 110 roof fan, on the other hand, is controlled using a built-in potentiometer within the cowl. The roof fan rotation speed data is not available.
Please note that if there is a crawl space in the building, it is also possible to use VILPE Ross ventilation poles.
What is the difference between E series and ECo series VILPE roof fans?
VILPE E series roof fans are AC-powered fans. VILPE ECo series roof fans represent next-generation fan technology that is more energy-efficient and silent than AC models. EC is an abbreviation for electronically commutated, which in the case of roof fans means a fan with a brushless DC motor. DC motors are about 30 per cent more powerful than AC motors.
Read more: