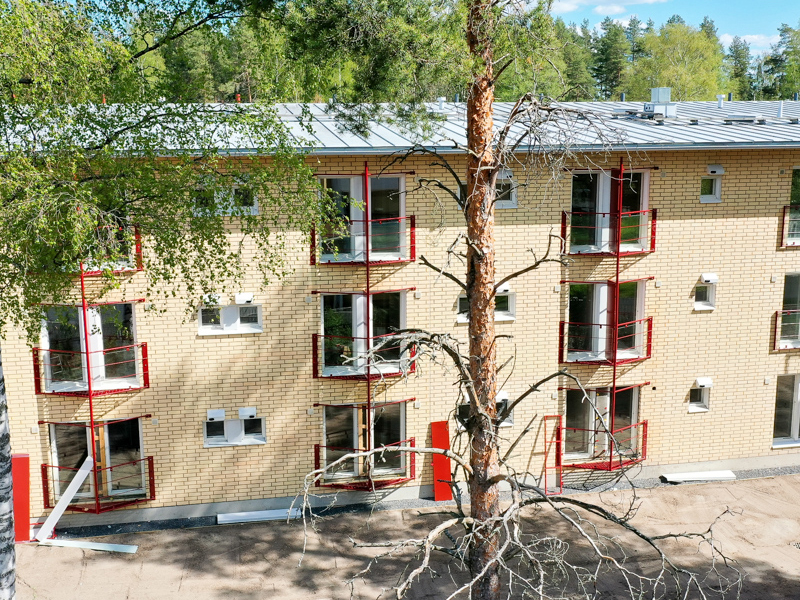 VILPE IO helped modernize the ventilation system of an older student apartment complex
Recently, an older student apartment complex built in the 1990s in Seinäjoki, Finland, was in desperate need of thorough renovation – at the same time, the building's' ventilation system was also renewed. During the renovation process, some of the old shared apartments were converted into studio apartments. When this had been done, the building complex consisted of 70 apartments in total and 40 of these apartments were equipped with a heat recovery ventilation system. Today, fresh air flows and the extracted air is removed using VILPE IO – a combined wall-mounted product.
For this project, a ventilation solution with exterior wall elements was chosen instead of a centralized ventilation system because space in the building was limited. Forty apartments in the building complex now have white VILPE IO 125 wall elements for intake and exhaust air ventilation.
For the other 30 apartments in the same building complex, another ventilation solution was used instead. The extracted air from these apartments is now removed through ventilation ducts which are connected to the roof, while fresh outdoor air flows into them through intake vents. The ventilation contractor in charge of this project was K.T. Tähtinen Oy.
– We chose VILPE IO as an intake and exhaust air solution because the quality and price ratio were excellent, says project manager Matti Kotila from K.T. Tähtinen.
– The new ventilation system was carefully planned, and this facilitated the ventilation renovation process, he continues.
Nearly all of the building service technology was renewed during the renovation process, and improvements were also made to the façade (such as replacing old grilles).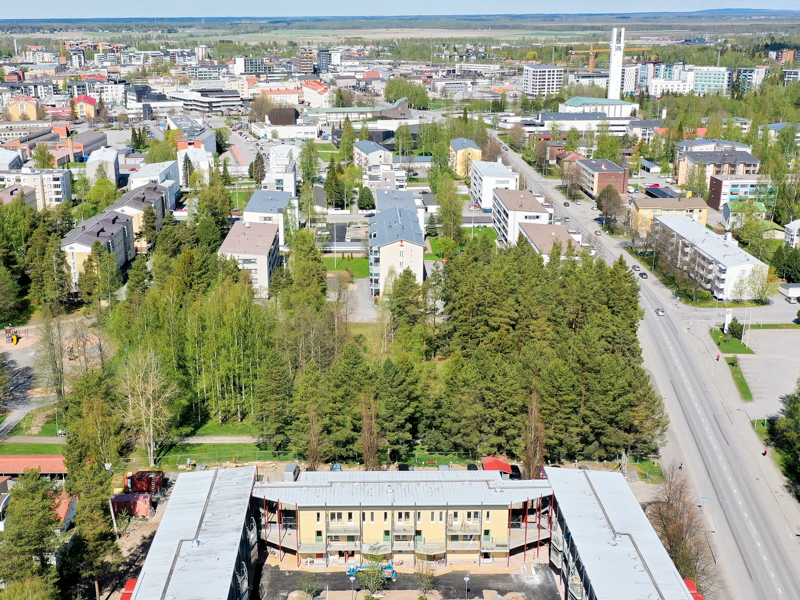 Investing in a new ventilation unit is an investment in energy efficiency
Renovating a building's ventilation system should be considered when the indoor air quality has deteriorated, or when new technology will result in reduced heating costs. In newer buildings, however, it might be enough to simply clean the ventilation ducts. If necessary, one can also adjust the ducting and replace worn-out parts of the ventilation units. In older buildings, ventilation renovation requires more time and effort.
Renovating a building's ventilation system improves its overall energy efficiency, especially if more effective heat recovery ventilation units are installed in place of the old ones.
– In these situations, the new ventilation units should be considered an investment rather than just a cost. Ventilation improves indoor air quality and saves money, says VILPE's HVAC engineer Martin Granö.
Summary of the student apartment complex:
Three buildings with exterior staircases. Seinäjoki, Finland. 70 apartments in total.
Built in the beginning of the 1990s. Renovated 06/2019-06/2020.
K.T. Tähtinen Oy was the ventilation renovation contractor.
Building service technology planned by: Palof.
Ventilation: mechanical intake and exhaust air ventilation.
Ventilation unit: Swegon Casa W3.
VILPE products: forty VILPE IO 125 wall elements.
Watch this video to learn how easy is to install the VILPE IO wall mounted elements.
Read more: