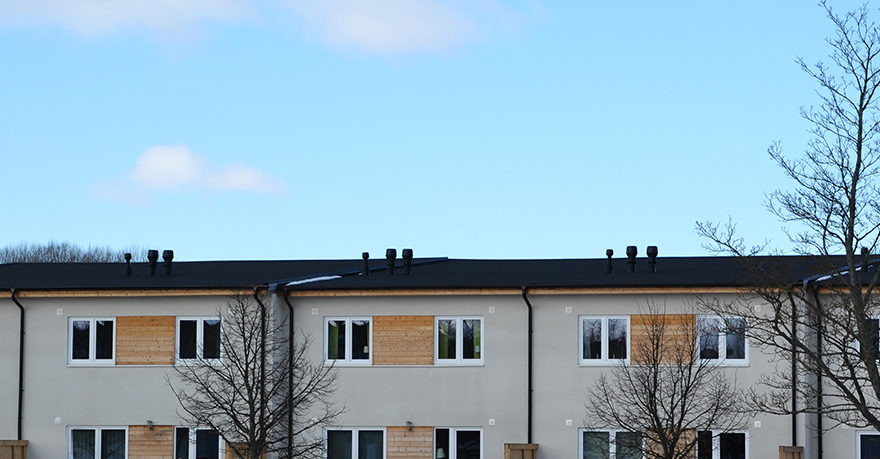 The simplicity and functionality of VILPE products impresses at Swedish row house building site
Rows of VILPE products adorn the roofs in a residential area of 75 row houses under construction in the Swedish municipality of Upplands-Bro. Standing seam roofing or felt was used to cover the roofs of 30 of these row houses -those located in the area on Brushanevägen. On the sheet metal roofs, VILPE Classic pass-throughs, exhaust ventilation pipes and sewer ventilation pipes were used.

On the adjacent street, Rödbenevägen, 28 row houses have already been completed and 17 more will soon be ready. The slope of the roofs in all 45 buildings is five degrees, and felt will be used as the roofing material. For these roofs, high pass-throughs from the VILPE series developed especially for felt roofs with a slope of less than 11 degrees are being used. Each roof has a sewer ventilation pipe and two exhaust ventilation pipes: one for the dwelling space, and the other for the kitchen extractor hoods.

Stefan Liljegren, the area manager for the building contractor, considers VILPE the ideal choice for the row houses in Upplands-Bro.

'Sheet metal pass-throughs have posed major risks over the years. It is nearly impossible to ensure long-term seal tightness, particularly in older sheet metal solutions. Therefore, when I learned about VILPE products during another building project, I was pleased to note that this problem no longer needs to keep me awake at night. And the fact that their carefully thought-out solutions significantly shorten installation times certainly doesn't make matters worse,' Liljegren explains.

'The simplicity and functionality of products are in a class of their own; building inspectors who have visited the site have also come to the same conclusion,' he continues.
At Upplands-Bro, VILPE products have also replaced solutions that had initially been implemented. 'In the first row houses, exhaust air had been conducted out through grilles mounted in the walls. But we had to abandon this solution because water was condensing on the outer surfaces of the grilles leaving ugly marks on the facades as it ran down them. Insulated exhaust ventilation pipes were installed as replacements, and we later used the same solution in the other houses,' Liljegren explains.

'We've had an excellent experience with VILPE's products. They provide solutions for the most common roofing materials and slopes and we will definitely use them in future projects,' he adds.
Read more: