VILPE Sense monitors the structures of a Finnish moulding factory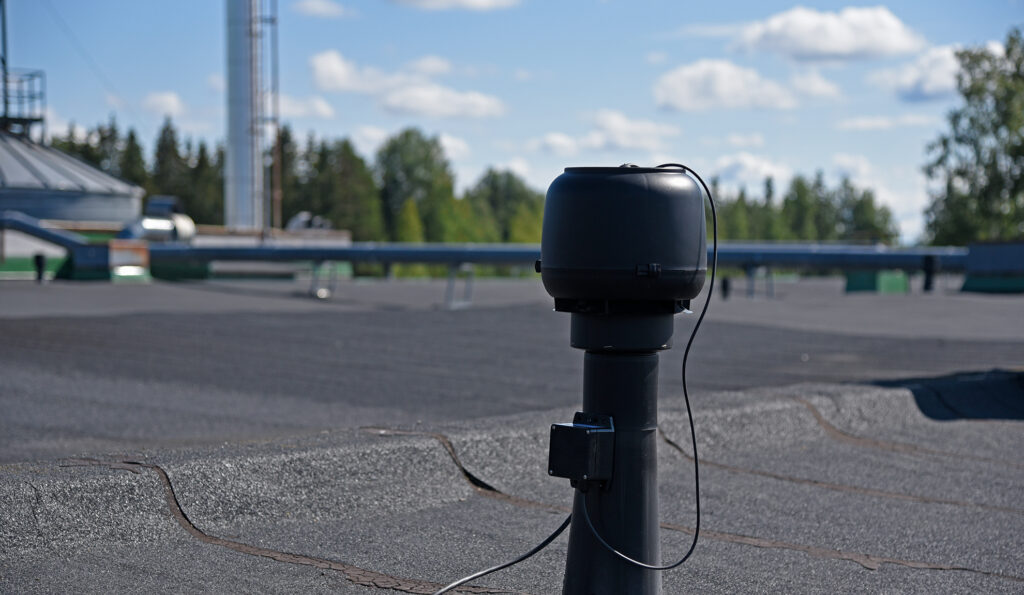 VILPE and KerabitPro organised a VILPE Sense competition in Finland, with the winner receiving a VILPE Sense system including a roof fan, a pass-through and installation. A moulding manufacturer, Parkanon Listatehdas, was selected as the winner, and the Sense system was installed on their factory's roof in July 2022.
One of the owners of Parkanon Listatehdas, Anne Talonen-Levula, came across the VILPE Sense competition online. Sense's technology and method of operation aroused her interest immediately.
"A smart roof, helping to control humidity, is a great invention. By noticing problems early, it can prevent a lot of unpleasant damage. The monitoring of the roofs of large industrial buildings tends to get little attention," Anne Talonen-Levula says, outlining the need for Sense.
"When buildings have flat roofs and large surfaces, it makes you wonder how well the roof drains really work, especially if rainfall increases a lot in the future," she adds.
According to Nina Tyni, VILPE's Sales Manager in Finland, Parkanon Listatehdas was selected as the winner because it is an industrial building with a felt roof, where the structures are ventilated with negative pressure air vents.
"One reason for choosing the winner was that part of the factory's roof has been repaired and part of it is old. They also had strong arguments for their need for Sense," Tyni says.
"Interesting to see what kind of moisture level there is"
On the premises of Parkanon Listatehdas there are five buildings, some of which have gabled roofs and some flat roofs. Sense was installed on a 3982-square-metre roof which was built in 1972. The bitumen surface material of the roof was partly renewed in the 1990s, and in 2020 the coating was renewed on an area of 2400 square metres. Roof drains, negative pressure air vents and roof fans had already been installed.
The VILPE Sense system was installed on a negative pressure air vent on the factory's roof. Sense was placed in the older part of the roof, to monitor the moisture in the structures and insulation layer. The user can now monitor this data from the VILPE cloud service.
"The structures of the factory are old, so it is interesting to see what kind of moisture level there is and how much it varies," says Tommi Kujala, Chief Executive Officer of Parkanon Listatehdas.
Customer-oriented business
Parkanon Listatehdas is a moulding manufacturer founded in 1946. The company sells mouldings to industry, public projects, resale and through distribution stores to private homes. Approximately half of production is exported, for example to Great Britain, Germany, Ireland and Sweden.
"Our production is based on client-oriented products. In Finland, a lot of products designed by architects and designers are going to public places such as hotels, hospitals, day-care centres and ships," Anne Talonen-Levula says.
The moulding factory has been operating since 1972 at its current location in Parkano, Finland, where it has expanded over the years. In the beginning, the company was private, was for a time part of a larger forest corporation, and has been run by the current private owners since 2010.
VILPE's partner in the Sense competition, KerabitPro, is a specialist in roof and waterproofing construction. With over 100 years of experience, KerabitPro builds and repairs all kinds of roofs in Finland. The company is part of the Nordic Waterproofing Group, one of Europe's leading suppliers of waterproofing products and services.
Watch the video of installing Sense: