Renovating the house of three pigs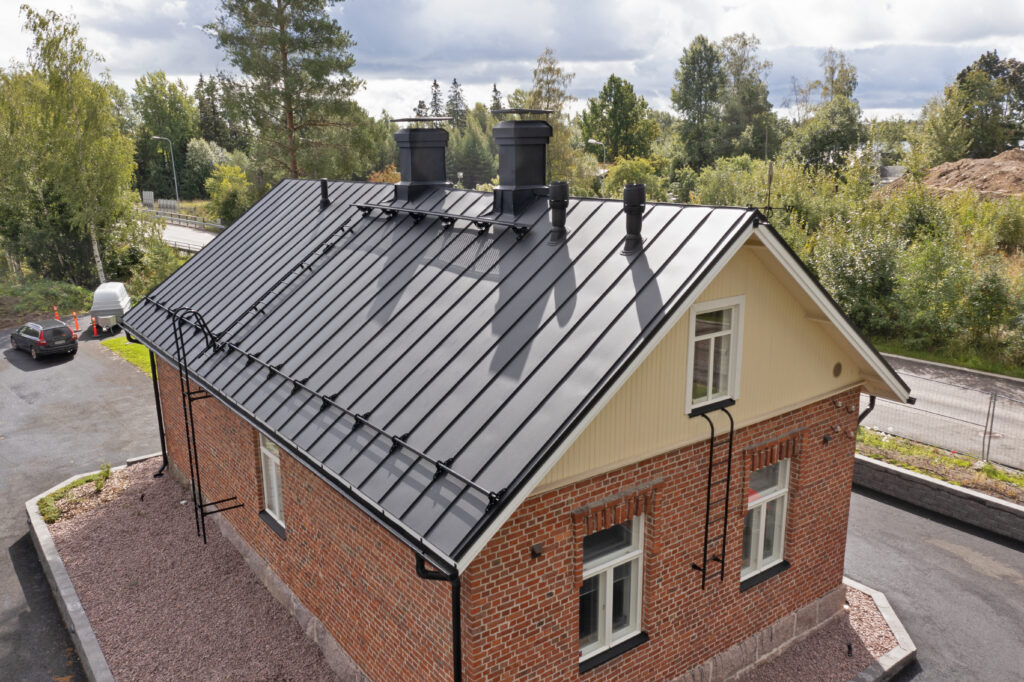 The House of Three Pigs is an old brick building located in Espoo, Finland. Built in 1908, the building had stood empty for years, and had badly deteriorated, until it was bought by Jouni and Miili Jauhiainen. Jouni and Miili own an HVAC firm called TNT-Putki, and the couple renovated the building so it could be their new office premises. During this process, the building's existing ventilation system was converted into a mechanical ventilation system. The office and warehouse are now equipped with VILPE P series roof fans and exhaust ventilation pipes, VILPE Wive intake vents and VILPE sewer ventilation pipes.
In August 2020, the HVAC firm TNT-Putki moved into the building, which was over 100 years old, and renovated it from top to bottom. The city of Espoo had sold the building at auction in January 2019, and Jouni and Miili Jauhiainen, TNT-Putki's owners, had bought it. Despite the name, the building has never housed pigs: it was initially used as a school and a day care centre, and later become a city warehouse. However, the House of Three Pigs had stood empty since the 1990s and had been damaged by vandalism by the time it was bought by the Jauhiainens.
TNT-Putki's CEO Jouni Jauhiainen explains that the process of acquiring the building was actually quite complicated.
"'My wife Miili's grandparents lived close by and often drove past the house. We always thought it would be nice to have this building. Once, Miili even called the city officials and asked if the house was on the market, but they did not want to sell it back then. When it was decided that the house was to be sold at auction, she was ready".
Miili, however, did not initially purchase the building at auction: a private individual won and bought the building instead. However, the city called off the deal because it would not allow The House of Three Pigs to be renovated as a residential building. A real estate agent contacted Jauhiainen afterwards because he and his wife had intended to buy it as a company – the deal was soon settled, although the couple also had to apply for exceptional permission for the project.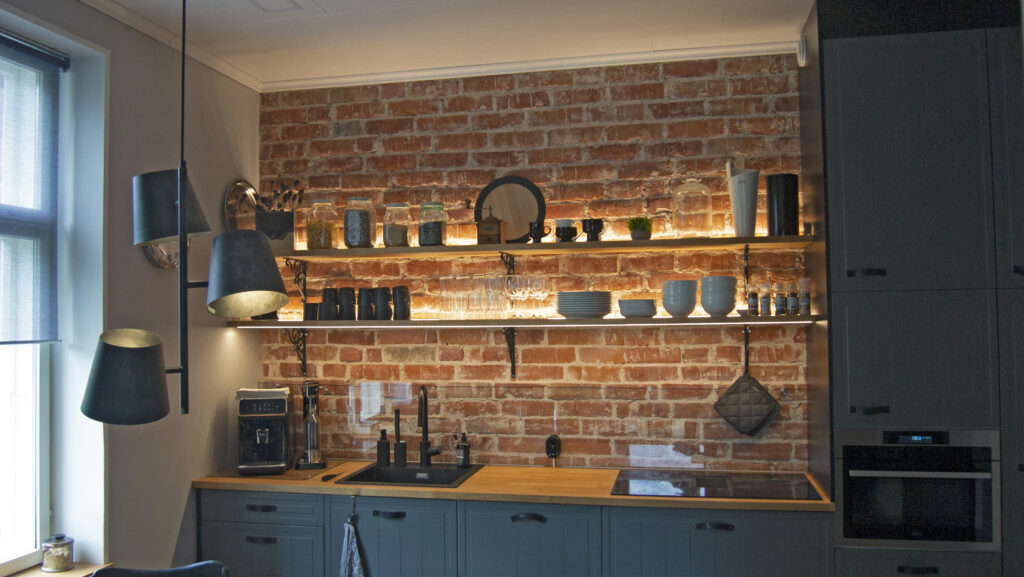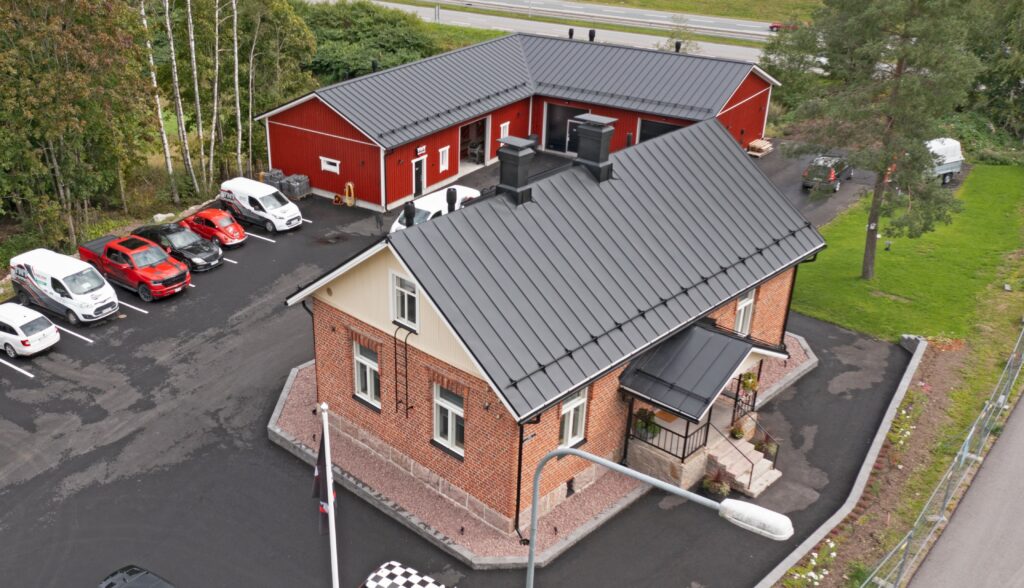 A challenging but rewarding project
The Jauhiainens renovated the building alongside their usual daily workload. According to Jouni, the project was challenging but rewarding:
"It was hard balancing between company business, renovation and family time at home. Now, when it has been a year since the renovation finished, I feel like I could do it all again."
The building's ventilation system was totally renewed during the renovation project, and the couple also built a new warehouse with a mechanical exhaust ventilation system.
Ventilation in the main building was improved by installing VILPE FLOW P series exhaust ventilation pipes, and the warehouse has VILPE FLOW P series roof fans. There's also a larger XL size roof fan for local exhaust ventilation, and VILPE Wive intake vents bring fresh air into the building. Both buildings also have VILPE sewer ventilation pipes.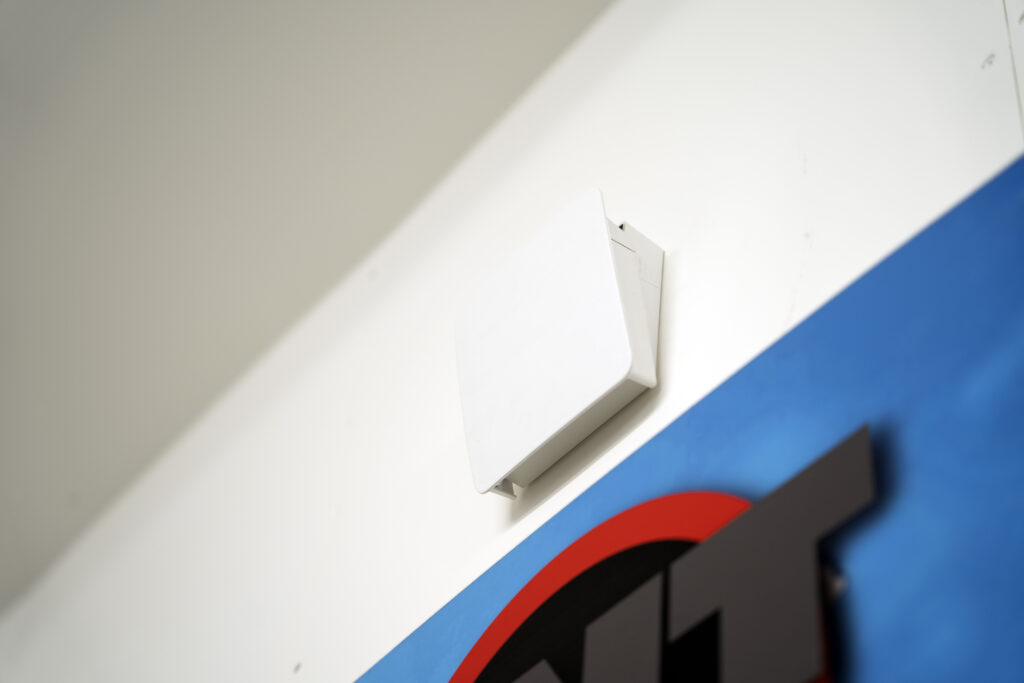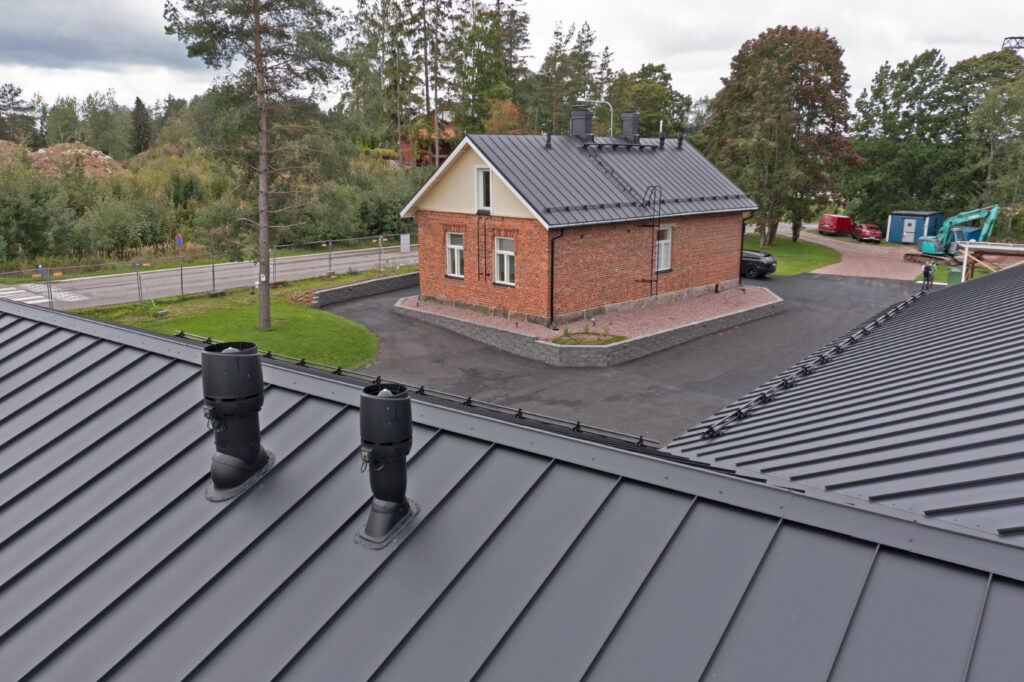 "No worries about water damage or leakages"
TNT-Putki and VILPE have cooperated for years: according to Jauhiainen, he and his wife chose VILPE products for the project because they are Finnish products known for their quality.
"We have always been happy with VILPE products, there have never been any causes for complaint. The products are easy to install and look good. You can rest assured that the joints are watertight, and there are no worries about water damage or leakages".
The House of Three pigs is protected by the Finnish Heritage Agency, and the building was renovated in a way which respected its history. For example, the new entrance door and windows were manufactured separately before being installed. However, the building now also includes modern technology, such as an underfloor heating system, and environmental friendliness was also considered: the buildings have geothermal heating and were renovated using ecological materials.
The building information
Brick house built in 1908. Used as a school and day care centre. Transformed into an office space and renovated from March 2019 to August 2020. New warehouse building was completed in 2020.
Size: Main building about 150 m2, warehouse 270 m2.
Materials: Main building has steel roofing (handmade) and brick walls. The warehouse has Ruukki Classic steel roofing and wooden walls.
Contractor: TNT-Putki
HVAC Design: Sakari Sippola
Ventilation: Mechanical ventilation, 2 ventilation units.
VILPE Products: two P-series exhaust vents, three ECo160P/700 FLOW roof fans, one ECo200P/700 FLOW XL roof fan, Classic Vino pass-throughs, six Wive intake vents, two sewer ventilation pipes.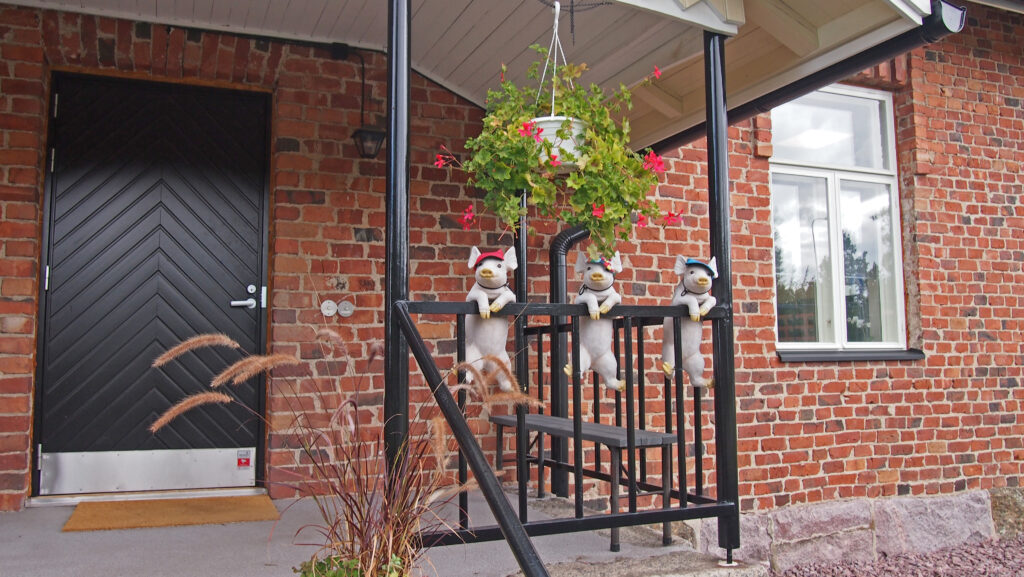 Read more: