VILPE has been awarded the Key Flag symbol as a sign of Finnish work
Press release 18.5.2020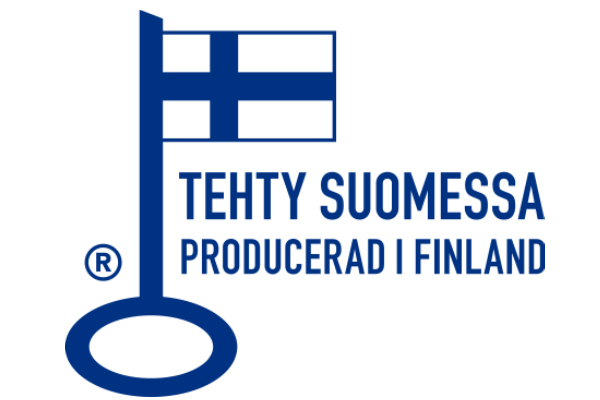 VILPE has been awarded the Key Flag as a sign of Finnish work
The Association for Finnish Work has awarded VILPE Oy the Key flag symbol in recognition of a product made in Finland. The Key Flag Symbol has been given to VILPE's exhaust ventilations pipes, wall elements, roof fans, pass-throughs, ventilations pipes, intake ventilation products, chimney pass-throughs, fasteners and roof hatches. The Key Flag clearly shows the products' domestic origin because VILPE's products have been manufactured in Mustasaari since the 1980s.
The Key Flag is a sign of Finnish work. The symbol can be awarded to a product that has been made in Finland. In addition, the right to use Key Flag Symbol can be awarded to products with a minimum domestic content of 50 percent of its break-even cost. The calculation takes into consideration all costs related to the product.
"VILPE's products have been manufactured in the Mustasaari factory since the 1980s, so nothing has really changed. Our products have always been Finnish. However, the Key Flag Symbol makes it easier for our customers to see that the products are made in Finland. In the current global markets, it can be difficult for consumers to know where a product is coming from. The Key Flag confirms to our customers that when they buy our products, they are supporting domestic work and production," says VILPE's Chief Executive Officer Tuomas Saikkonen.
The Key Flag is very well known symbol. According to a study conducted by the Association for Finnish Work, practically all Finnish consumers and business executives know the Key Flag symbol. The majority of Finns (75 %) also state that the Key Flag symbol has a positive impact on purchasing decisions.
Marketing Manager Reetta Mentu of the Association for Finnish Work states that people regard buying a domestic service as a way of influencing society and a value choice that contributes to Finnish competitiveness and prosperity.
"Consumers associate the symbol with a positive image of domestic quality, reliability, safety, responsibility and employment. With the Key Flag symbol, companies can communicate important values to consumers and clients. 92 percent of companies that have been awarded the Key Flag state that the symbol supports the sales of products and services," tells Reetta Mentu.
More information
Tuomas Saikkonen
+358 50 5376724
CEO VILPE
Nina Pohjoiskoski
Brand Manager
Association for Finnish Work
+358 50 344 6048
Read more: