Welcome to VILPE 45th year Anniversary Gala in 2022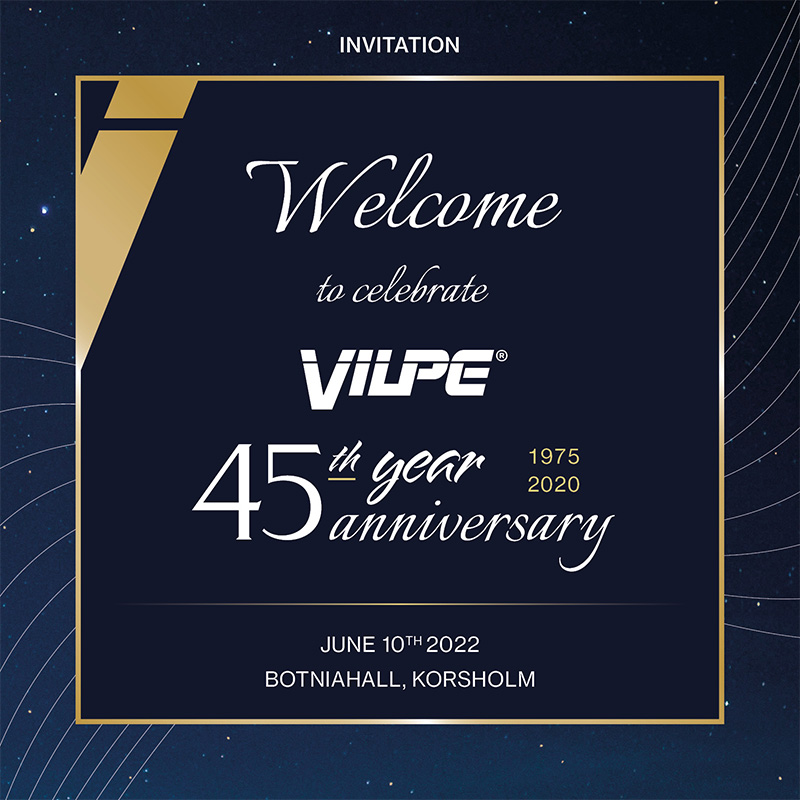 VILPE 45th Anniversary Gala will be held in June 2022
Update September 16th, 2021
We warmly welcome you to join us at the VILPE Anniversary Gala on Friday, June 10th, 2022.
We will organise the event according to the original plan. The Day Seminar will be held at the VILPE factory in Korsholm, and the Evening Gala will be held at the Botniahall sports arena, located just a stone's throw from our factory. All registrations and hotel reservations for the Gala are valid in June 2022. In other words, there is no need to register again. If you have already signed up but cannot participate in June 2022, please contact marketing@vilpe.com
This is not the first time we have had to inform you about the new Gala date. Hopefully, this will be the last time. We have also felt frustration about the situation and for having to reschedule the event, but naturally, the safety of our guests and staff is number one priority. Despite all the setbacks, rest assured that we are still dedicated to arrange a fantastic and unforgettable event in June 2022. The Gala next summer will be an even more amazing experience.
VILPE Anniversary publication is available online. Read our story and learn more about our partners here.
Program
During the day, you will have the opportunity to network with industry professionals. Also, during the event, you will get firsthand information about our new strategy and our new ground-breaking product launches. The day begins with a visit to our factory, where you have the opportunity to hear interesting news from the field, enjoy refreshments and a factory tour in small groups.

The Anniversary Gala will be held at the Botniahall sports arena, located just a stone's throw from our factory. The host of the evening is the popular author and presenter André Noël Chaker. The Gala ends with a smashing concert provided by the famous Finnish singer Laura Voutilainen. You will also experience amazing performances by the violin artist Oneviolin and the pop kantele diva Ida Elina.

Dress code: Formal or black tie optional.
Please RSVP by filling out this Form.
Health-secure event
The Anniversary Gala will be health-secure. The Gala is organised by event planning professionals to ensure the health and safety of our guests and staff. Safety distances, different arrival times and promoting good hygiene are some examples of our safety precautions. The venues are spacious so for example tables can be placed loosely. The Anniversary Gala has also been granted the Finnish Safe Events certificate.
Day seminar
11-15 Factory tours, VILPE's strategy launch and refreshments (in small groups)
Evening Gala
17 Arrival to the Evening Gala begins
19 Welcome speech
20 Dinner
02 The Gala ends
Accommodation
The guests have the option to reserve a room from our quota of fixed rate hotel rooms.
The hotel choices and their prices are stated in the registration form.
During the day, we will arrange bus transportation between the factory, hotels and the Evening Gala.
The Anniversary Gala is sponsored by our partners
Learn more about our partners
Engel: Automated and self-optimised injection moulding machines inform users when service is needed read article
ebm-papst: Active product development unites ebm-papst and VILPE read article
Digitalization has facilitated business for Onninen read article
JanLa considers sustainability as a competitive advantage on the market read article
Dahl wants to be a strong local actor read article
Iecon: Growing popularity of smart house control systems read article
Read more: